Alone & Unafraid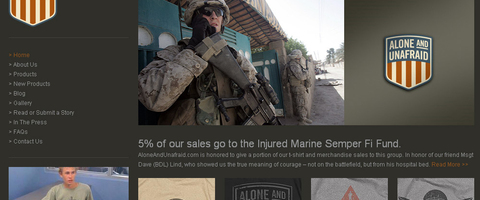 Designer
This project was designed by
3 Advertising
Description
Founded by two U.S. Marines, AloneAndUnafraid.com features t-shirts with military-style graphics.
The website features a FoxyCart/FoxEE shopping cart, a photo gallery populated by user submitted photos, a story section populated by user submitted content, a blog with commenting ability and a member and order receipt login area.
URL
» Click here to launch this website
What The Client Said
"Thanks for the impressive work."
~ Aaron Moore (Website Co-Founder)
Tagged
Blog
,
ExpressionEngine
,
Ecommerce
,
Image Gallery
,
Member Area
Similar Projects
•
Clif Bar International Sites
•
Sackwear
•
Dekker Perich Sabatini
•
New Day Youth & Family Services
•
The National Museum of Nuclear Science & History