Destination Colorado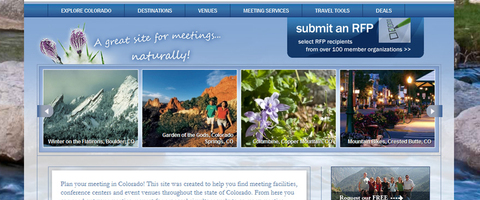 Designer
This project was designed by
Eagle River Associates
Description
Destination Colorado is an online resource for meeting and event planners. Their 100+ members represent the best in amenities, activities and service that Colorado has to offer. The goal of the website is to make the site selection and planning experience convenient and straightforward.
Features
- Custom member control panel which allows for editing of all venue specific information and images
- Custom Add To RFP functionality which allows users to easily submit an RFP to specific venues or groups of venues
- Custom administration area for approving and delivering RFPs to venues
URL
» Click here to launch this website
What The Client Said
"We love working with MediaGirl! She consistently delivers exceptional work at an extraordinary pace. She is also an indispensible collaborator and problem solver. We would be hard pressed to replace her services."
Tagged
ExpressionEngine
,
Image Gallery
,
Member Area
Similar Projects
•
Clif Bar International Sites
•
Dekker Perich Sabatini
•
New Day Youth & Family Services
•
The National Museum of Nuclear Science & History
•
Guittard Chocolate Company