Giant For Women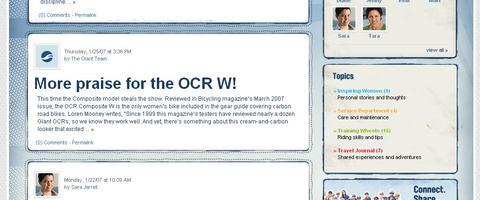 Designer
This project was designed by
Odopod
Description
The Giant for Women Ride Society was created for one common purpose – to be a resource for women riders. The website was designed by MediaGirl's favorite San Francisco design studio,
Odopod
. You have to love their work!
Odopod's
team also took the lead on the interactive Flash which is visible throughout the site.
The Giant for Women project brought together a group of riders who wanted to share their expertise and experience with other women riders. Visitors are encouraged to participate in the community by commenting on the articles which range from inspirational stories to bike maintenance tips.
The site was built using the ultra-friendly content management tool,
Expression Engine
, which allows the editor and authors to have complete content control.
Features
• Blog with user submitted comments
• Blog entries archived by author or by topic
• Editor only control panel for maintaining all content
• Author specific control panel
• Online entry form for quarterly prize drawing
URL
» Click here to launch this website
Tagged
Blog
,
ExpressionEngine
Similar Projects
•
Clif Bar International Sites
•
Dekker Perich Sabatini
•
New Day Youth & Family Services
•
The National Museum of Nuclear Science & History
•
Guittard Chocolate Company