Inkling Magazine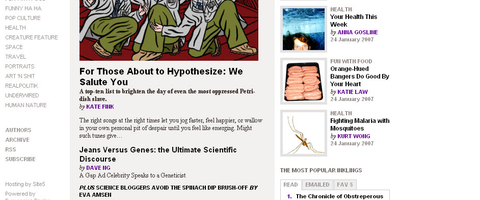 Designer
This project was designed by Anne Casselman and Anna Gosline
Description
Inkling Magazine is an online magazine dedicated to delivering science news to women readers. The site was launch in December 2006 by two self proclaimed science geeks, Anne Casselman and Anna Gosline. The site was designed by Anne & Anna and programmed by MediaGirl.
The primary goal when it came to building the Inkling Magazine website was to make managing the content fast and easy. The solution we proposed was our favorite PHP content management system,
Expression Engine
which allowed us to build a website that completely separated design from content.
Features
• Reader posted comments
• Ability to email articles to friends
• Statistics for most read & emailed articles
• Hidden tools only the editors can see when logged in
• Article archived by month, subject & author
• Editor can enable an Amazon book list for each article with a simple keyword
• Easily updated shop area
• Editor only control panel for maintaining all content
• Dynamically generated thumbnails
Tagged
ExpressionEngine
Similar Projects
•
Clif Bar International Sites
•
Dekker Perich Sabatini
•
New Day Youth & Family Services
•
The National Museum of Nuclear Science & History
•
Guittard Chocolate Company