LandAmerica Albuquerque Title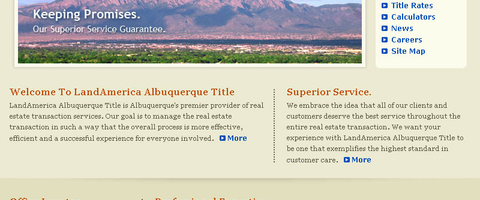 Description
LandAmerica Albuquerque Title is a leading title services firm in Albuquerque, NM. When they approached MediaGirl for help with their website, they were needing a complete redesign. The primary objective of the redesign was to develop a polished, professional look and feel that was consistent with the LandAmerica corporate brand, but still maintained an Albuquerque "feel". The second objective was to implement a Content Management System (CMS) which would allow the website to be administered by LandAmerica Albuquerque Title marketing department without them having of know any programming.
MediaGirl worked with LandAmerica to develop a website that fit the professional image they were wanting to convey. The site was built using
Expression Engine
as the content management system. The use of this CMS ensured that the site-wide corporate layout and look & feel remained consistent by only allowing staff the ability to edit text and certain images.
Features
• Hidden tools only the editors can see when logged in
• Integrated Google map displaying office locations
• Online service ordering forms
• Editor only control panel for maintaining all content
• Online mortgage calculator
• Online NetOut calculator
Tagged
ExpressionEngine
Similar Projects
•
Clif Bar International Sites
•
Dekker Perich Sabatini
•
New Day Youth & Family Services
•
The National Museum of Nuclear Science & History
•
Guittard Chocolate Company