Nike Club Soccer Module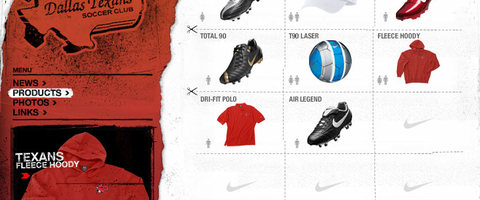 Designer
This project was designed by
Odopod
Description
Dubbed the Club Soccer Module by the
Odopod
design team, this project is a web experience accessible via certain club soccer websites. Essentially, it's a custom Nike experience branded specifically for the soccer clubs with their colors, logo, club specific products and local retailer information. The site features news, soccer related products, photographs and cool links. All the content is managed using our favorite content management system,
Expression Engine
, including the content that populates the Flash areas of the website. The content in Expression Engine is fed to the Flash using XML.
When the project started, there were two goals: 1. Build a single content management system for both the Flash and non-Flash parts of the website, 2. Build a website that could be completely branded to the specific soccer clubs. The resulting website is a great of example of using Expression Engine and Flash together with a ton of back-end controls that the administrator can tweak to their ending delight!
Features
• Custom content display depending on URL string
• Content management integrated with Flash using XML
• Editor only control panel for maintaining all content
• Ability to email articles to friends
• Dynamically generated thumbnails
Tagged
ExpressionEngine
,
Image Gallery
Similar Projects
•
Clif Bar International Sites
•
Dekker Perich Sabatini
•
New Day Youth & Family Services
•
The National Museum of Nuclear Science & History
•
Guittard Chocolate Company