Old Guys Rule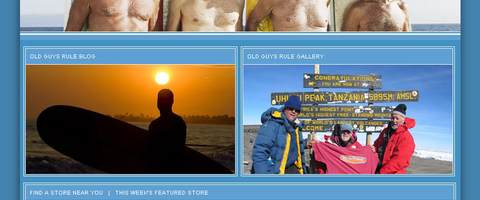 Designer
This project was designed by
3 Advertising
Description
The Old Guys Rule brand made its debut in west coast surf shops and quickly proved to be a very popular concept. Last year Old Guys Rule made its debut online with a website designed by the talented folks over at Albuquerque based
3 Advertising
. The project's goal was to build an online community and shopping experience for the company's growing fan base. From the day the site launched, it has proved to be extremely popular.
For John Wayne fans, check out the
John Wayne T-Shirts
and for surfer dudes check out the
surf apparel
.
Features
• Complete ecommerce capabilities
• Online gift certificate sales
• Online forum with member registration
• Blog with user submitted comments
• Image gallery populated by user submitted images
• Searchable dealer database
• Content management system for editing all non-store related content
URL
» Click here to launch this website
Tagged
ExpressionEngine
,
Ecommerce
Similar Projects
•
Clif Bar International Sites
•
Sackwear
•
Dekker Perich Sabatini
•
New Day Youth & Family Services
•
The National Museum of Nuclear Science & History