Turquoise Trail Association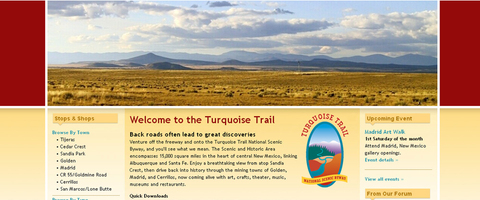 Description
The Turquoise Trail website features easy content management, photo and video galleries, detailed member information, an interactive Google map and a community driven forum and member area.
URL
» Click here to launch this website
What The Client Said
Many thanks for designing and building this beautiful site. And for your patience in teaching us how to edit and maintain it.
~ Lynn McLane (President, Turquoise Trail Association)
Tagged
ExpressionEngine
Similar Projects
•
Clif Bar International Sites
•
Dekker Perich Sabatini
•
New Day Youth & Family Services
•
The National Museum of Nuclear Science & History
•
Guittard Chocolate Company