Giant For Women Redesign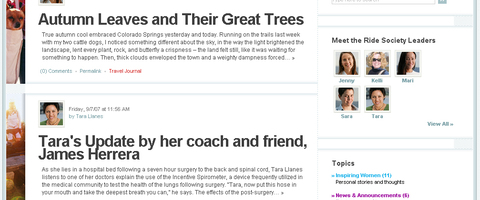 Designer
This project was designed by
Odopod
Description
Recently we worked with the awesome folks at
Odopod
to implement a new design and new functionality into the
Giant for Women
website which we
first built last year
.
The additional functionality we implemented focused on enhancing the community spirit of the
Giant for Women
website. Registered members can post photos to the Galley, they can post bulletins to the Bulletin Board and can comment on existing bulletins, they can post messages to the Ride Finder looking for riding partners and can respond to existing posts, and everything is managed in the new My Account area.
The website is 100% managed by
Expression Engine
.
Features
• Photo gallery populated by member submitted photos
• Bulletin board populated by members
• Commenting by members in gallery and bulletin
• Ride Finder populated by members looking for riding partners
• Overlays for all errors and certain member tasks
• My Account area
Tagged
Blog
,
ExpressionEngine
,
Image Gallery
,
Member Area
Similar Projects
•
Clif Bar International Sites
•
Dekker Perich Sabatini
•
New Day Youth & Family Services
•
The National Museum of Nuclear Science & History
•
Guittard Chocolate Company